Housepet care products
A line of housepet care products, containing only ingredients whose effectiveness has been tried and tested. These solutions ensure the highest effectiveness of protection and care.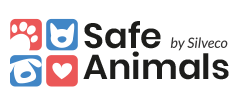 Safe Animals Cream is a cream formula containing active forms of silver, intended for application onto the skin of animals
Safe Animals Skin Protection is an innovative hygienic formula supporting natural skin regeneration processes.
Safe Animals Healthy Ears is a care product for the external ear canal and earlobes of dogs and cats, containing active forms of silver.