Product description:
Functional coatings for galvanized steel and stainless steel with biocidal and hydrophobic properties. Thanks to nanosilver content, coatings are characterized by high efficacy, persistence and protection of the protected surface against the growth of microorganisms.
Moreover, the coating substantially raises the surface's resistance to standard detergents and reduces it susceptibility to corrosion, which translates to reduction of the operating costs of protected steel surfaces.
Product features
High microbiological activity (reduction >99%)
Low migration of nanosilver (<0.1 ppm)
Wide range of applications: furniture, ventilation ducts, tools, etc.
Safety in use
Resistance to detergents
High cost-efficiency
Simple surface coating technology
Recommended application parameters
distance of gun from "painted" surface: optimally 20 cm (range 15 – 25 cm). For smaller elements, select parameters by changing nozzle diameter and working pressure.
working pressure for gun: approx. 7 bar
nozzle diameter: 1.5
dynamic viscosity values are 400-600 mPas.
Prior to application of the layer, the surface should be degreased with alcohol or solvent, then dried. After drying, check whether any pollution is left on the surface.
1 layer of coating is applied.
The mixture's lifetime at 20° C amounts to 25 min.
1 kg of ready mixture of Silver Epoxy A and B components is sufficient for coating a 30 - 50 m2 surface area (depending on the coating's thickness)
The coating should be hardened at 60 – 80° C for 30 – 60s.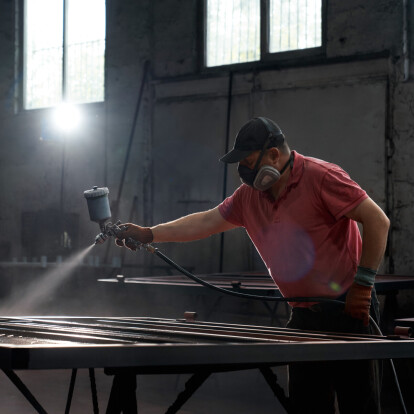 Corrosion resistance of the coating
Analysis of plates subjected to the action of hydrochloric acid under a microscope made it possible to assess changes in morphology and loss of the zinc coating of steel with and without the Silver Epoxy coating. A non-uniform layer of zinc is visible on the surface of galvanized steel, which, under the influence of acid, is etched and destroyed down to the steel itself. The morphology of the surface of steel protected by the coating is unchanged, even after treatment with concentrated hydrochloric acid.
Moreover, X-ray microanalysis of samples showed that the zinc content of steel samples treated with hydrochloric acid decreased from 88.0 ± 6.8% to 16.6 ± 7.3%, and for samples protected with the coating, it did not change substantially. In the case of the unprotected plates, analysis confirmed the increase in iron content at sites of zinc loss, which indicates uncovering of the steel, which was not observed for steel with the coating. The results unequivocally confirm the resistance of the coated surface to the action of environmental factors and lack of progression of the corrosion process.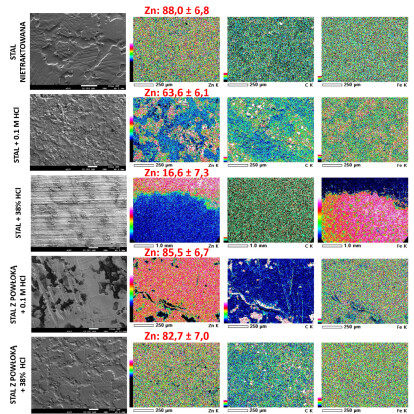 Steel with Silver Epoxy and control samples without nanosilver were tested according to standard ISO 22196: Plastic – Measurement of antibacterial activity on plastics' surfaces. The coating exhibits high antimicrobial activity against the Gram-negative (Escherichia coli) and Gram-positive (Staphylococcus aureus) bacterial strain, as well as against fungus (Candida albicans). In the case of both tested bacterial strains, reduction amounted to 100%, and in the case of fungus 99.1%. Obtained results confirm the enormous antimicrobial potential of obtained coatings, and thus, the wide range of their potential applications.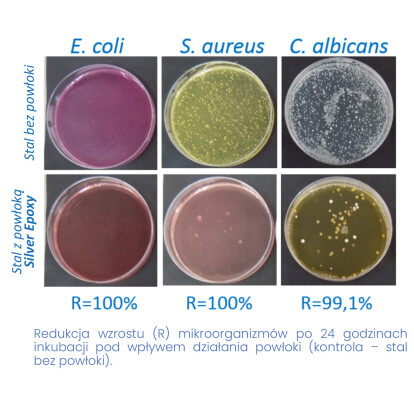 Properties
Form: dual-component system, liquid
Silver concentration: 100 ± 10 ppm
Application: pressurized spraying
Period of suitability for use: 6 months
Surface hydrophobization
Depending on the customer's needs, the coating may have a hydrophobic nature, making it easier to keep a surface clean. The photograph below presents water wetting angles for surfaces with and without the coating, which is a measure of a surface's hydrophobicity. The proposed coating ensures an increase of the wetting angle by over 20°.

Silver nanoparticles (100 ppm) applied as the active ingredient of the coating endow it with biocidal properties with extended action. Nanoparticle sizes fall within the range from several to several dozen nm, and chemical stability is assured by the polymer applied.
The spherical shape and mean sizes of silver nanoparticles <30 nm were confirmed by means of transmission electron microscopy.
SEM and TEM analysis of silver nanoparticle sizes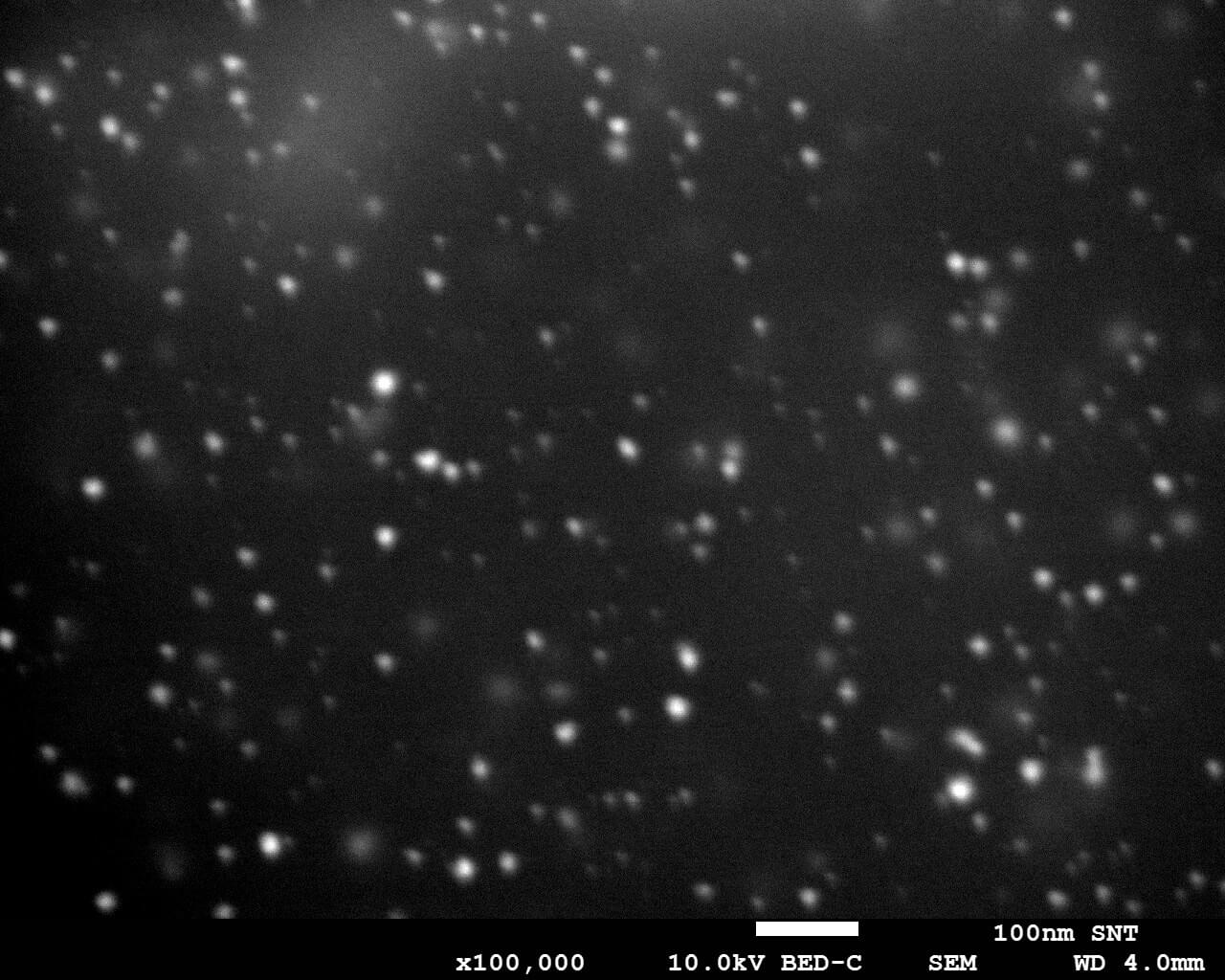 Transmission electron microscopy image of nanoparticles from the coating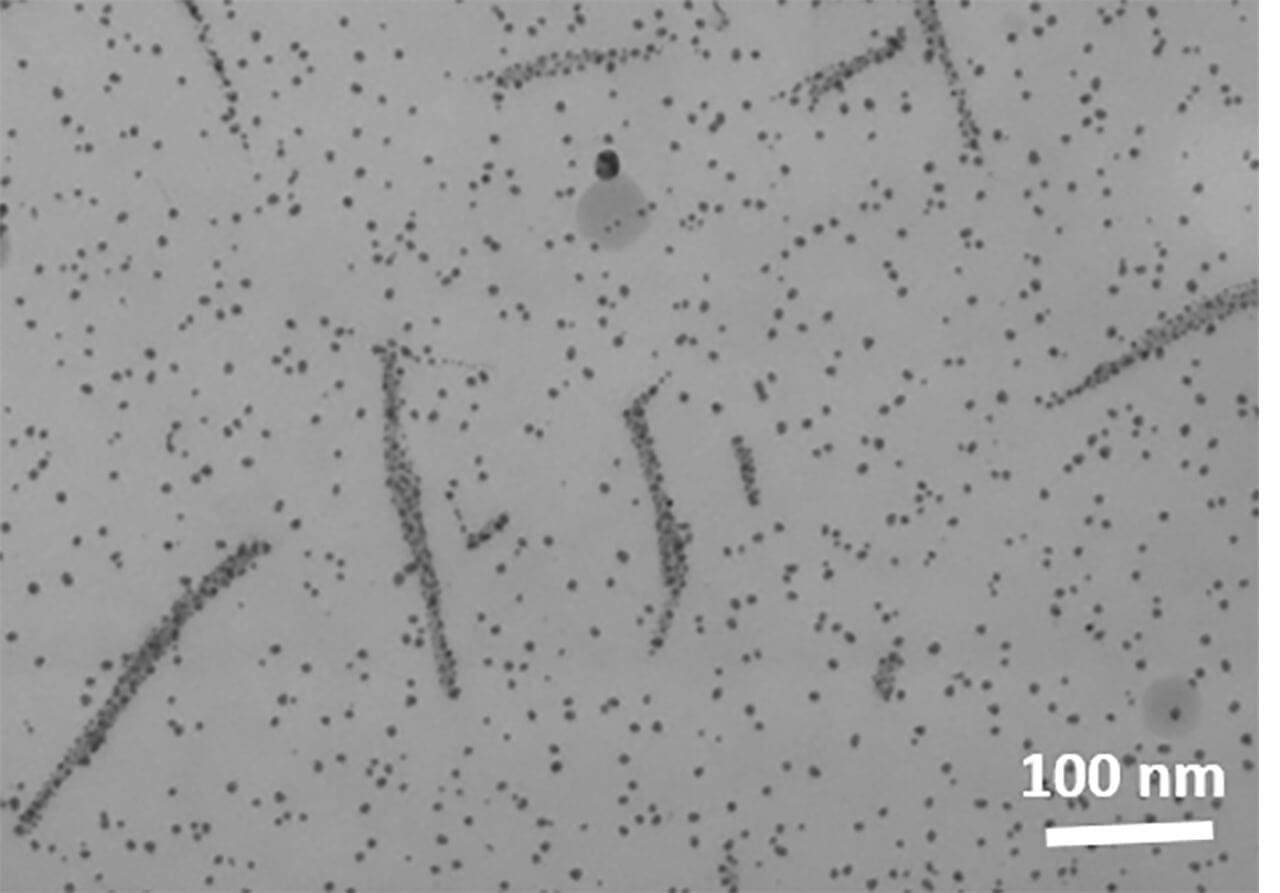 ---
Technology combining production and technology for adaptation of a bioactive additive for ceramic linings.
Service of creating an antibacterial coating with silver nanoparticles
Impregnant intended for protection of materials and surfaces against moisture