Nanoadditive for windshield wiper fluid. Reduces scratches, improves visibility, forms a protective layer, facilitates removal of dirt and insects.
Product description:
GLADOC is a specially developed ingredient for windshield wiper fluids, created based on nanotechnology, endowing new functional properties that cannot be achieved using traditional solutions. Regular use of fluids with the addition of GLADOC leads to sealing of cracks, which improves the windshield's translucency and functional properties.
Wiper fluids containing the GLADOC additive exhibit strong hydrophilic properties, which allow them to penetrate into the surface, facilitating quick and effective removal of dirt and insects. Elimination of small windshield damage has a favorable effect on: visibility during driving, comfort of driving the vehicle, and in consequence, on the safety of the driver and passengers.
GLADOC does not have an adverse effect on metal and rubber elements. It does not change the color, transparency, odor or viscosity of the windshield wiper fluid.
Hydrophilic properties
improve the effectiveness of the wiper fluid
facilitate removal of greasy pollution and insects
reduce surface friction
State of aggregation: liquid
Color: colorless
Odor: odorless
Ignition temperature: not applicable/product is not flammable
Expiration date: 12 months
Method of use: the GLADOC additive should be mixed with windshield wiper fluid in the proportion of 1 to 1000.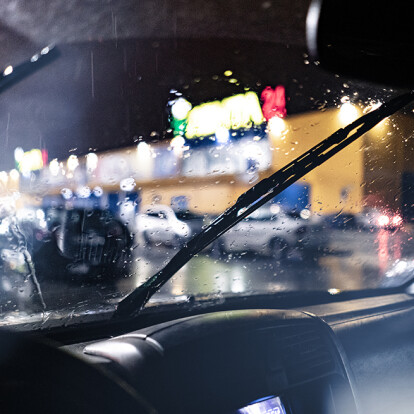 Comparison of the windshield's hydrophilic properties with (right) and without (left)
the addition of GLADOC, through application of a water droplet onto its surface.
The results of conducted tests illustrate the influence of the GLADOC additive on scratches on the windshield. Measurements covered testing of the effect after 3-fold and 10-fold coating of a scratched site with concentrated solution and investigation of the effect following the 3rd,
5th and 7th coating with the GLADOC formula, diluted 10-fold.
Depth and width measurements of the scratch before and after application of the nanoadditive were taken using an atomic force microscope. One droplet of the GLADOC additive and its aqueous dilutions were applied onto the windshield's surface. After application of a layer, the surface was dried and another measurement was taken. In successive stages, layers were applied analogously to the first time. Each subsequent layer was applied when the windshield was completely dry.
Read more:
---
An aqueous colloid containing nanometric copper complexes, exhibiting very high and long-lasting antimicrobial efficacy.
An aqueous colloid of silver nanoparticles exhibiting very high and long-lasting antimicrobial efficacy.